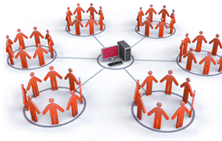 About HostMonk
HostMonk is an unbiased web hosting comparison website that helps users find the right web hosting plan with the help of a state-of-the-art web hosting wizard, searching through the largest and always updated database of thousands of web hosting packages.
HostMonk's friendly web hosting wizard will find in a matter of seconds the most accurate and cost effective options to perfectly fit each user's requirements and specifications.
When we say web hosting we actually mean all available web hosting types: affordable Shared hosting options, VPS hosting, Dedicated hosting and also Cloud Hosting, being this last one our specialty as we are the first place offering comprehensive Cloud Hosting comparison on the web. On top of that, HostMonk also offers web server comparison (virtual, dedicated and cloud servers).
Who's behind HostMonk?
We are a group of experienced IT professionals who found ourselves spending way too much time sifting through web hosting plans in search for the best possible deal for every project we started working on, and of course each project has its own web hosting needs and budget.
We were frustrated that there was no comprehensive and honest comparison website for the average guy, but just lots of misleading review sites with limited information that do not reflect what's best for the user but what's best for them in terms of promotion.
After several months of thinking how to solve this problem, we decided to come up with HostMonk, as a unique alternative for impartial web hosting comparison and be the answer for thousands of people who look for a hosting service on a regular basis.
HostMonk offers its users transparent information that is collected from trusted resources, including the largest list of web hosting providers and public internet information services such as Alexa, Compete and others.
We not only monitor and compare monthly prices and show the technical details of each web hosting plan, but we have developed a smart providers' ranking according to several K.P.I.'s (key performance parameters), optimizing the quality of our service. Users take advantage of it on every search you do at HostMonk. You can see the general ranking by visiting the MonkBase - our unique hosting providers information center.
We love our work at HostMonk because we know that we are helping our community get information they can trust about web hosting and be able to select the hosting plan that suits their requirements with the best value for money.
What makes HostMonk different?
Choosing a web hosting service is a decision that will affect the way you work and impact your customers' experience. The choice should not be made on the basis of which provider buys the largest banners or spends more money getting your attention. The choice should be made according to the facts.
HostMonk is committed to bringing you a thorough index of the world of hosting services. We present the facts for you to make your decision. What you see is impartial, based on the cold hard facts with nothing added or removed.
Are you totally new to the web hosting world, or are you a savvy web developer?
HostMonk makes easy the overwhelming and sometimes critical process of selecting the correct web hosting plan. HostMonk is the best solution for all users, despite their understanding or lack of it on web hosting.
With HostMonk you can feel safe that you will be given the most reliable, unbiased and up-to-date information after a few clicks.
Click here to get started with your web hosting selection!
What's in it for us?
To offset the costs of maintaining HostMonk website, some links on HostMonk are connected to affiliate ecosystems. We guarantee that this does not affect placement in any way and will not compromise the way in which we present the data to you. We believe that success comes only by being open and honest with you, our users.
Got feedback?
HostMonk is a project in progress and we would love to hear what you think and what you have to suggest improving HostMonk.
Why don't you drop us a line or follow us on Twitter?
Enjoy your visit.
- The HostMonk team

The site boasts of pricing and listing more than 2,500 hosting packages. ...could also net you a pretty sweet deal on data pricing...

HostMonk is a website that aims to impartially compare hosting packages. ...it might just be the website we've been waiting for...

HostMonk is a new website that makes an overwhelming task of comparing hosting providers really easy.